Select an Outdoor Umbrella for Better Sun Protection

Sun Protection is a fact of life™
Choosing an outdoor umbrella to provide the necessary cooling shade and sun protection on a hot, summer day may seem a daunting task since there are so many from which to choose.
But, the savvy consumer will take the time and make the effort to gather the necessary information for choosing the correct umbrella for the backyard patio, by the pool or for a trip to the beach.


There are certain aspects to consider when searching for the best outdoor umbrella. Check at the following before you spend your hard-earned dollars on an outdoor-umbrella:


Shop on a Budget
The first step on your search for the perfect outdoor-umbrella should be establishing a personal budget. Don't be surprised to find a quality, freestanding outdoor umbrella costing more than $2,000.
Yet, with a little effort, armed with a bit of information, a quality umbrella can be found for under $200. However, keep in mind that any consumer working with a limited budget will not be selecting a fancy European-styled freestanding patio umbrella. It is important to set your maximum spending amount before beginning your search.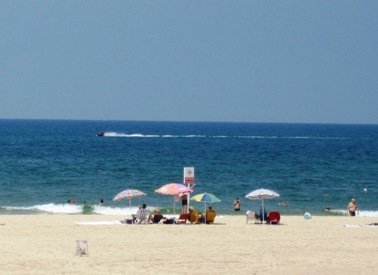 What Kind of Space is Available?
Your umbrella choice will dictate the size needed to provide the UV protection for which you are looking. When seeking to block the sun's UV rays in a backyard, the outdoor-umbrella needs to be large enough to cover the entire resting area where you and loved ones gather.
If you simply need to cover a small table sitting on a back porch, a simple table-top patio umbrella may fit the bill. But, when seeking to provide sun protection on a huge backyard deck, make sure you budget enough money to purchase a large freestanding outdoor-umbrella.


Sun Protection Hitting the Sand
Many people easily associate a day at the beach with a need for an outdoor umbrella providing necessary protection from the harmful damage caused by exposure to UV radiation emitted by the sun.
Most people consider the need for a beach umbrella to either find a temporary space from the hot sun rays or cut down on the possibility of sunburn.
However, repeated visited to the beach without protection from the sun using an outdoor-umbrella may one day result in suffering from melanoma or skin cancer.
A beach umbrella differs from models used on backyard patios. These umbrellas have sharply pointed pole bottoms for inserting into the beach sand. Several choices also include push-button tilt options while available in a variety of pattern designs and colors.


Complimentary Fashionable
Many consumers never give consideration to color when choosing an outdoor umbrella. However, color choices are abundantly diverse allowing consumers the opportunity to coordinate with house colors, trim colors as well as match furniture cushions for a specific fashionable look.
Wild colors to subtle choices make for a variety of designs to suit any personal preference.


Enjoyable Protection Awaits [Outdoor Umbrella] Use
Consumers seeking not only comfort but sun protection can choose from many different outdoor umbrellas for a variety of specific needs.
Plus, not only will you and your loved ones benefit from the shady protection from harmful UV radiation, your patio furniture benefits as well. Wicker furniture and cushions last much longer when protected from the bleaching effects of sun exposure by use of an outdoor umbrella .



Join in and share your experience or story. How?
Simply click here to go to Sun Protection Umbrella Stories and Reviews.







Return to Home Page
Return to the Top