UV Sunglasses Can Keep Your Vision Safe

Sun Protection is a fact of life™
The uv sunglasses can keep your vision safe. There are flowers, trees, lakes, and oceans to be seen along with other natural wonders.
Can you imagine not being able to see any of these? This can happen or at least these objects can become distorted with certain eye problems. What can cause these problems to happen?


The sun and its UV rays can. However, you don't have to let them. You know how the bright sunlight hurts your eyes when you go out in it?
Well there are harmful ultraviolet rays which are invisible included in it that can penetrate deep into the eyes, and reach even the retina damaging it over a period of time.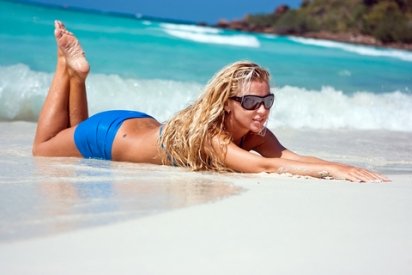 Eye Diseases
This can lead to Macular Degeneration is some cases. This disease affects your central vision. Without this vision it is hard for you to do certain daily tasks such as driving and reading.
When this happens it can change your whole quality of life. The eyes being exposed to the uv rays can also cause Malignant Melanoma cancer to affect them along with various other cancers.
This is why you should always put on your uv sunglasses for protection before going outside for any length of time at all. Even though some of the cancers can be treated successfully, do you really want to go through all the pain of the disease happening in the first place?



What About Sports?
If you are doing a sport like skiing in the winter you may choose to wear ski goggles instead of just sunglasses for protection.
These can also provide sun protection as long as they block 99 to 100 percent of the uv rays from your eyes. If you are a runner there are special sunglasses designed to give you protection too which will hug your face comfortably and stay in place better than regular ones while you run.
For any sport done outside you can find a sunglass style which will work for you.



Dressing Up
Are you going on a hot day in the middle of day and want to look nice? There are protective uv sunglasses that look stylish you can wear that won't spoil your nice outfit.
So don't say you are not protecting your eyes because you want to look good. Safeguard your eyes against uv rays while still looking dressed up.
Remember how much damage the sun can do. It can cause cancers along with other eye diseases. It is not worth giving up uv protection for the sake of fashion. Aren't your eyes worth more?
Besides like has been pointed out you can have both fashion and protection in sunglasses just choose the right style.
With all the information today on uv rays and the damage they can do you, you have no reason to say you did not know to protect yourself from it.
Get the right uv sunglasses by making sure they block 99 to 100 percent of the ultraviolet rays from your eyes. These uv sunglasses do not have to be expensive to be good and the expensive ones are not always what you need.
So read the labels and check out the brands before buying them. Most of all guard your eyes against harm.
Related Articles:


Join in and share your experience or story. How?
Simply click here to go to Sunglasses Stories and Reviews.







Return to Home Page
Return to the Top
Return to Sunglasses