Is Sun Protection Hat Part of
Your Daily Sun Protection Plan

Sun Protection is a fact of life™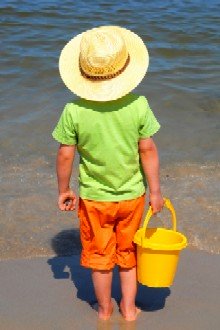 Sun protection hat or UV protective hat, are your best chance to have UV protection against the sun's ultraviolet rays or ultraviolet radiation.
These sun hats which are also known as UV protective hats, not only protect your face but also your head and neck.
While you practice sun safety, you help in keeping your scalp, ears, face and neck from developing skin cancer.


Why do you need to wear a sun protection hat?



When you go out in the sun, your head and neck area are wide open to the damaging effects of the UV rays or UV radiation.
• Your skin alone can not protect you.
• A regular light hat can not protect you.
• A regular baseball cap can not protect you.
• A loosely woven straw hat can not protect you.
• UV sunglasses alone aren't enough.
You need to wear a Wide Brim Sun Hat (at least 4") that is rated UPF 50 plus for maximum UV blockage.
Sun hats which are also water proof are preferred.






Are they a hassle to wear?


Of course not.
Would you say some one who gets a skin cancer is in a hassle,
Or
someone who just has to wear a hat?



What is an appropriate rating?


Normally the sun protection fabrics are rated by the UPF number. UPF stands for Ultraviolet Protection Factor.
So the higher the UPF rating the higher the UV protection will be.
I prefer a UPF 50+ rating in my sun hats and uv protection clothing, which translates into a 98% blockage of the sun's harmful UVA and UVB rays.
Also water resistant UV protective hats are preferred for all kinds of weather.



Which type is better?



For added sun protection and comfort consider the following,
• Lightweight and water resistant is better
• Air Ventilation built into the hat is better
• Breathable fabrics are better
• Widest brim with a full veil or drape in the back is better
• For reducing UV reflections, under brim dark color is better
• Elastic cord or adjustable headband is better



How do you measure your head before buying a Sun Protection Hat?



Simply use,
A cloth measuring tape which is flexible and won't scratch your forehead. By going once around your head right above your ears will give you the circumference of your head.
Or
A long piece of unwaxed dental floss or thread and go around your head once and cut it. Then measure the cut piece flat using a measuring tape or a ruler.
Use the Merchant's sizing chart accordingly and match your measurement to their hat size.
For instance if your head measured to be 22", it is in the range of small or a number 7 in the USA.
A sun protection hat may be one size fits all, where you adjust it by the headband.
Some are available in actual increments ranging for instance from 6 to 8.


Join in and share your experience or story. How?
Simply click here to go to Sun Protection Hat Reviews and Stories







Return to Home Page
Return to the Top