Sun Protective Apparel

Sun protective apparel is no rocket science (well almost) and it consists of the following:


• Sun protection hat or Sun protective hats
• Sun hats for men or women
• Sun visor hat or Sun visor hats
• Sunglasses or UV light protection
• Sun protection umbrella
• Sun protection sunglasses or UV sunglasses
• Sun protection shirt
• UV outdoor shirts
• Sun protective shirts or Sun shirt
• Board shorts
• Sun protection pants or UV pants
• Sun protection gloves or driving gloves
• Sun sleeve
• Sun protective bikini or bathing suit
• SPF swimwear
• Sun protective swimwear
• UV hat or UV hats
• UV protection clothing
• UV swimwear
• Visor hats
• Water shoes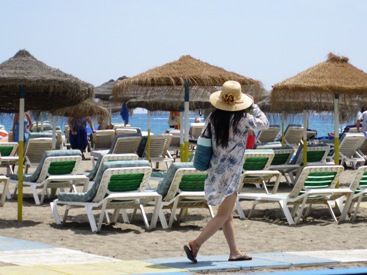 The list above contains most of what's out there as far as Sun protective apparel is concerned. Sun protective apparel may be considered a life-saving device since it can protect you against outdoor elements such as the Sun damaging UV rays.
Your skin as well as your eyes needs full time protection against the outdoor dangers which exist on a daily basis. However you don't have to be outside in order to be in danger.
Let's say you are sitting at your office right next to the window. So if the Sun is shining in your direction, you are being exposed to UV rays unless you're using some kind of Sun protective apparel. Though most modern office buildings nowadays take advantage of using Sun protection window tint or UV film.
So if you're in the market to lease an office space, any kind of work space or living space, it would be great to check out the hours which Sun shines directly into your space so you can plan accordingly and safely.
The fact that the Sun's UV rays may damage your skin beyond repair becomes more problematic event, in the older homes. Because chances are most older homes are built using just regular class without any kind of UV protection.
However there are Home window tints with rating of up to 99% UV protection. These can be installed as do-it-yourself projects or using UV window tinting companies.


But what is it about sun protective apparel that is so important?
The main issue at hand is the penetration or not the penetration (for that matter) of the UV rays into the human skin or body as a whole. Research has shown that this radiation whether natural or artificial (meaning tanning beds, UV lamps, etc...), can cause mutations which could lead to skin cancer.
Each year thousands of people die of skin cancer, many of which perhaps could have been avoided. When it comes to Skin Cancer, prevention is the name of the game and the timing could not be better since the information is out there already.
There are many researchers and foundations that have come to the conclusion that Sun protection is the solution to this ever growing problem. Luckily, there are many companies who carry Sun protective apparel and make it really accessible to everyone.
As mentioned earlier, there is a whole variety of sun clothing, hats, sunglasses and umbrellas which can help you maintain your healthy skin and prevent further damage to your skin cells and DNA.
The sun protective apparel is manufactured using specialty fabrics which has built-in UV protection in it. The benefit is that you do not have to re-apply it like you do with your sunscreen. Even though you will still need your sunscreen for those unprotected spots or areas.


Join in and share your experience or story. How?
Simply click here to go to Sun Protection Clothing Review







Return to Home Page
Return to the Top