Aqua Socks

Sun Protection is a fact of life™


Aqua socks also known as water shoes, are the next best thing to a regular shoe. The first time I heard about aqua socks, I thought they were some kind of socks that can be worn in water.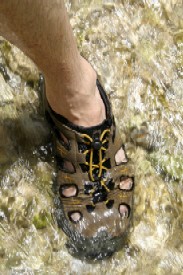 But actually they are much better than that.
The main purpose of wearing them is to protect your feet near water or whenever you are planning any kind of water activity.
So many planned trips have been ruined or cut short, just because someone's walking barefoot ended up with a bad bruise or even foot injury.
You don't have to be one of them!

Are You Planning to go to your local beach or pool?
This is probably the easiest of all, since you don't have your luggage to worry about.
But be sure to pack a pair of aqua-socks or water shoes. This way you can wear them as you get out of your car and protect your feet from ever touching the sand.
More importantly, when you get near or go in the water there is a ton of rocks, shells, pebbles and other sharp objects which might injure your feet.
Of course don't forget the live sea life such as crabs. You might like to eat them as your favorite cuisine, but not get bitten by them on your feet.
Therefore by wearing a good pair you almost guarantee yourself a safer and more pleasurable time in the water.
When you are done, the water drains itself thru the mesh lining and other openings designed for this purpose.
Soon after, you should have a nice and dry pair of feet!
Even if you are going to your pool, they come in very handy. Their non-slippery outsole is great for wet as well as dry surfaces.
Wear a good pair, and forget about slipping around the pool anymore.


Going to a Water Theme Park?
You no longer have to worry about bruising your feet while getting in and out of the water. Wear a nice pair of aqua socks or water shoes and have fun all day long!
Return to the Top Return to Home Page