Water Shoes or Aqua Shoes
Sun Protection is a fact of life™
Sun Protection Where You Never Thought!


Water shoes are your sun protective footwear that you need to wear anytime you get involved in water sports or outdoor activities near water. They protect your feet from cuts and bruises too.
I learned that your ankle can be a very painful part of your skin to get a sunburn.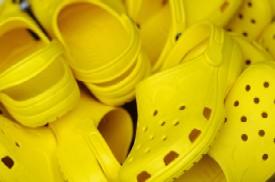 That's why Water shoes must be part of your daily sun protection clothing package.



This pertains to you if you are a kayaker, canoer, boat rider, fisherman/woman, jet skier, board surfer, wind surfer or perhaps just walking on the sand.



Since you just don't know what might lay in the sand or water, it's safer to wear these aqua shoes (Aqua socks ) for added protection.
This way you don't ruin your day at the beach or where ever you might be, by getting a cut or ending up with skin infection due to the cut.
Cuts and bruises can happen from sharp rocks, splinters, shells and even hot sand.
That's why the watershoes or aqua shoes are very beneficial to your kids too.



Oh yes, the honey moon!

I know that when my friend went to Hawaii for his honey moon, their plans got changed.
It was all because they went on a tour which involved walking on rocks and riverbeds next to a waterfall.
They had to take off their shoes so they wouldn't get wet.
By not having a pair of water sandals on, they ended up walking bare foot.
As they were walking the trail in the wet and rough surface, his wife's foot caught on something and was cut open.
They had to go back down and get it fixed.
At the time they figured it's just a minor cut. But as evening approached, they realized it was turning into some kind of fungus infection.
The rest of their honey moon was ruined.
Just think about it. If they had worn their watershoes, water sandals or at least were told to bring some kind of aqua shoes with them, none of this perhaps would have happened.
Depending on what type of watershoes you get, you can get excellent sun protection on your feet too.
It never hurts to do whatever you can to prevent UV rays from reaching your feet.
• Light material which floats on water
• Anti-slip material for avoiding slips and falls
• Odor resistant material
• Great ventilation all around
• Great drainage all around
• Fantastic level of comfort
• Quick drying feature
• Anti-microbial protection
• Upper mesh for allowing water in and out
• Rubber footed for protecting the soles of your feet
• UV protective fabrics
• Blocks out 99% of all harmful UV rays or
• UPF 50+ rating for maximum sun protection
• Resistant to chlorine
In my experience, some brand name water shoes are more expensive but they are worth the comfort and protection they provide.


Special case:

Do you wear water shoes, water sandals or walking sandals while taking a shower?


Yes, especially if you are in a public place such as the beach, your gym, hotel room, dormitory and even in the army.
You just don't know who might be carrying athlete's foot, infectious funguses or other contagious bacteria.
Do not share or lend your water shoes no matter what. One bad contact is all it takes to pick an infection.
I always take a pair of water shoes or rubber sandals with me whenever I am going to be staying at a hotel.
I never walk in their bath up or shower stall barefoot even if it's five star hotel.


However, if you are going to use it just for taking a shower then water shoes which are a bit heavy but easy on-easy off are preferred.
Your foot should avoid touching the shower floor at all times.




Join in and share your experience or story. How?
Simply click here to go to Water-Shoes Reviews and Stories.





Return to Home Page
Return to Sun Protection
Return to the Top