Beach Sunglasses for your Children

Sun Protection is a fact of life™
Beach sunglasses are a classic hit summer accessory, particularly for children. As the rounds of sunny days begin, this accessory goes beyond aesthetics in giving children's sensitive eyes a fashionable look and reliable protection against the harmful ultraviolet (uv) rays coming from the sun.


What are the dangers caused by uv rays to your child's unprotected eyes?
As much as harmful UV rays can create havoc to adult eyes, they can bring more harm to a child's naked eye. When active children spend long hours by the beach, they tend to expose their eyes to the dangers of the harmful sun rays that may be reflected from the surface of the water or directly received from the sun with long exposure.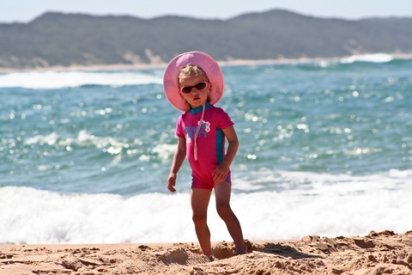 Even if it is cloudy, your children is still subject to a considerable risk of overexposure to sun's harmful rays. This explains the importance of having them wear beach sunglasses during summertime.
The sun's harmful uv rays come in to forms; the UVA and UVB rays. Prolonged exposure can cause temporary bleaching of the photosensitive pigments in the retina, which can affect the clarity and detail of your child's vision.
It may also result to uv-induced yellowing of the lens and cornea to abnormal tissue growths to the whites of the eye. Over time, prolonged exposure to sunlight may result to the formation of cataracts, which can deliver various severities of damage to your child's eyes or even blindness.
Children are actually more vulnerable to these effects. And since uv damage to the eyes accumulate over time, children who are not in the habit of wearing proper sunglasses may develop disorders like ptergium, photokeratitis or sunburn of the eyes, and Macular Degeneration.


How are children's beach sunglasses designed?
The fashion aspect of sunglasses is infectious to both children and adults, but protecting the eyes is its main purpose. Children's sunglasses are usually crafted with emphasis on durability.
Aside from using a variety of colored frames, its main design uses good quality frames to endure different environmental conditions. Acetate frame are often preferred as the material is durable, easy to use and handle.
Impact resistance and lightweight are two important features that translate to safe and effective sunglasses for children.


What makes a great pair of children's beach sunglasses?
A proper pair of children's beach sunglasses needs to be dark enough to effectively reduce glare and clear enough to still allow your child to recognize street signs and traffic signals.
Be wary of products that simply state "uv protection" or "blocks uv"; the level of sun protection needs to be specified. A good pair must offer to block 99 to 100 percent UVA and UVB rays.
Polycarbonate lenses and acetate frames are recommended for children as they are of good quality and are not prone to breakage or cause accidents.


Are beach sunglasses for children necessary?
At the beach, as children spend more time doing activities under the sun, they tend to increase your chances of developing eye problems due to prolonged exposure to harmful ultraviolet rays.
Their still developing and sensitive eyes are generally more vulnerable to the damage caused by harmful sun rays. Without a pair of protective beach sunglasses , children are simply risked to developing eye problems and disorders over time.



Join in and share your experience or story. How?
Simply click here to go to Sunglasses Stories and Reviews.







Return to Home Page
Return to the Top
Return to UV Sunglasses