Best Polarized Sunglasses for Better Eye Protection

Sun Protection is a fact of life™
The best polarized sunglasses are designed to maintain clear vision and delivering reliable eye protection with its selective glare filtering capacities.
The glare coming from the sunlight usually makes it difficult for the eyes to see as too much brightness of the light obscures the details of your view.


To correct this problem, this type of sunglasses takes advantage of the advanced eyewear technology known as polarization. This feature enables the lenses to effectively reduce the brightness of sunlight while still maintaining clear optical view.
This feature works great in managing the glare of the lights reflected from the surface of the snow, water or grass, which allow its wearer to avoid potential hazards.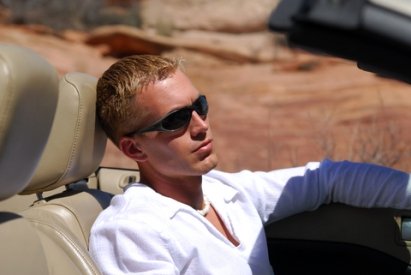 How does a pair of polarized sunglasses works?
The light coming from the sun is usually reflected on surfaces such as water or snow. The reflected light travels in a horizontally oriented direction; thereby producing glare.
By wearing polarized lenses, your eyes can enjoy the comfort of filtering and blocking intense reflected light, which in turn reduces glare.
This way, it lessens the stresses on the eyes and improves field view. This aspect makes the best polarized sunglasses ideal for skiing, boating, golfing and other outdoor activities.


Tint vs. Polarized sunglasses
Tinted and polarized lens are more popularly used in making sunglasses. Tinted lens is basically achieved by the application of light-absorbing molecules on the surface of a clear polycarbonate.
This is done to offer varied intensities of blocking sunlight glare mechanisms. On the other hand, polarized lenses are created by using a chemical film of transparent plastic or glass.
It uses a chemical compound with molecules that form parallel alignment and absorb light matching their alignment. Between the two, polarized sunglasses offer selective light filtering features, which minimize glare without compromising the clarity of detail of the objects in view.
Lenses with dark tint intensity or darkness are effective in blocking out glare but they are not ideal for driving as they may interrupt vision. Of the two, polarized lenses are better able to produce clear and uncompromised view against sunlight glare.


What do you get from getting the best polarized sunglasses?
Although polarized sunglasses appear to be just like any other sunglasses, they actually offer more eye protective and comfort benefits than any other types of sunglasses.
While they are effective in deflecting glare, it keeps you from getting distracted while being busy on something important as it automatically reduce glare and elevate visibility. This design aspect offers a variety of advantages, particularly to the players of outdoor sporting events.
The best polarized sunglasses offer suitable uv protection against the bright sunlight. Its sun protection features even extend to its ability to offer eye protection from the glare of computer monitor screens and LCD instrumentation.
If you are a motorcycle rider, wearing a pair or polarized lens allows you to easily spot oil patches and avoid other forms of road hazards.
Aesthetically speaking, you can find the best polarized sunglasses in all colors, ranging from mildly polarized to darker shades such as yellow, amber, gray, green and more. Now that gives you one option for eye protection that has lots of personality.



Join in and share your experience or story. How?
Simply click here to go to Sunglasses Stories and Reviews.







Return to Home Page
Return to the Top
Return to UV Sunglasses