Ski Sunglasses Offer Skiers UV Protection on the Slopes

Sun Protection is a fact of life™
The ski sunglasses give the skiers more than just clear vision on the slopes. They also provide them with uv protection.
If you are one of these skiers you know what unique problems you have seeing while skiing. You have to have sunglasses not only for protection from the sun's rays, but also for the glare of the sun shining on the snow.


After all you don't want to be skiing down a high-long slope and not be able to see clearly because of glare. This could spell trouble for you big time.
This is supposed to an enjoyable sport when done correctly. You have to be able to see without problems though to have fun safely.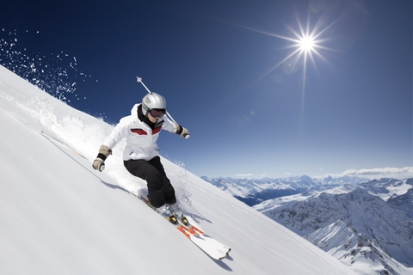 Also UV rays can be just as dangerous in the winter time as in the summertime. So the best sunscreen and UV-blocking ski sunglasses need to be worn. Your eyes can suffer badly like you skin can from being unprotected from the sun.
You can find sunglasses that block 100% of the uv rays out to protect your eyes too. This is so important because of all the eye problems that can occur. You can damage your eyes to the point that they get Malignant Melanoma or other eye cancers such as lymphoma.
Macular Degeneration is another disease that can happen to you as you get older that can be brought on some think by not protecting your eyes well enough while in the sun.


Were you out in the sun a lot as a kid unprotected?
You could already be at risk for certain cancers and other problems. So why make it worse by not protecting yourself now.
You could also have a genetic predisposition to these eye cancers or macular degeneration. Cover your eyes with the right ski sunglasses to block the UVA and UVB rays out please.
There are many styles of these glasses that you can buy for protection that look quite attractive to wear. No one will ever know you are safeguarding your life while you wear them.
The lenses are designed to give you the best clarity modern technology can provide. This is what will help you see where exactly you need to ski and keep you from danger on the slopes.
These big sunglasses are made to fit snugly and not slip even when you are sweating. Some have interchangeable lenses and they are resistant to smudging. This all helps you see better.
However remember that you need to wear these too for the uv protection they offer your eyes to safeguard them from eye diseases.
Now you know why it is so important to have a good pair of UV sunglasses. They are not just for seeing your way down the slope and through the snow.
These ski sunglasses are to guard your eyes against any and all harm that can come from UV exposure. There are few guarantees in life so you have to take care of yourself the best you can to ward off cancer and other diseases.




Join in and share your experience or story. How?
Simply click here to go to Sunglasses Stories and Reviews.







Return to Home Page
Return to the Top
Return to UV Sunglasses