SPF Clothing

Sun Protection is a fact of life™


SPF clothing protects your skin all day long, without the need to re-apply anything except where your skin is exposed such as your face and hands.
I love my SPF clothing since I can put it on just like my other outfits and go out without any delay.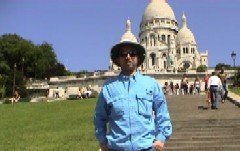 SPF stands for Sun Protection Factor and the higher it is, the better sun protection you get
from your SPF-clothing.
However, SPF is usually used in measuring the effectiveness of sunscreens. SPF-clothing and sun protection clothing is measured using the UPF number.
UPF is the rating method used for measuring the amount of UV rays (ultraviolet rays) which passes thru the material or fabric. UPF 40-50+ is the highest rating which provides maximum sun protection.
When you are traveling, time is normally limited. You either have a tour to catch, or a place of interest to visit which is open only for certain hours.



So you will be elated to know that most of your body can be covered quickly using SPF-Clothing. This includes:

• Sun protection hat
• Sun protection pants (long)


Plus additional important accessories such as,


• UV sunglasses
• UV gloves
• UV sun umbrellas



It's always amazing for me to see how enjoyable a trip can be when you plan ahead of time and accordingly.
Of course you know your destination ahead of time and have a good idea about where you are going.
So packing a few pieces of SPF-clothing can make the difference between getting:


• A sunburn or cool skin
• A skin rash or softer skin
• A sun allergy or not
These have been my experiences and yours may be different, but still you have to protect your skin as much as possible. Skin damage has a cumulative effect and can show up years later.


By putting on a sun hat, UV sunglasses and a long sleeve SPF shirt with high collar you are protecting your whole upper body including the back of your neck. You will still need to apply organic sunscreen to your face, which can be done quickly.
Put on a pair of SPF clothing pants with UPF rating of 40-50+ and you are well protected and ready for a great day of fun and adventure.
Some of the SPF clothing (shirts and pants) that I have bought in the past, have been made of polyester while some others have been made of 100% cotton.
The all cotton ones seem to keep me cooler while protecting my skin. The polyester ones have built in mesh for wicking moisture away plus back and side vents for better air flow through out your body.
A pair of SPF pants that I use regularly has also got side vents on both sides of my legs, allowing me to be cool while walking.
Altogether, SPF clothing is a modern convenience and a pleasure to wear!




Join in and share your experience or story. How?
Simply click here to go to SPFClothing Reviews and Stories.








Return to the Top
Return to Home Page