Sun Protective Shirts Tips

Sun protective shirts are well-known for offering the best protection against harmful UVA and UVB rays. After all, these shirts block out 95-99% of the sun's damaging UV rays from entering your body.
However, you just don't go out there and purchase the first few sun protection shirts that you see. I made that mistake on my first try and the shirts definitely did not live up to their promise! But with these practical tips on choosing the right sun protective shirts, you will avoid making the same mistakes as I did.


What Activities Will You Use Them For?
Sun protection clothes come in a variety of styles and sizes, colors and construction that bode well for the fashionista in all of us. However, function as much as fashion is very important in choosing the right shirts that will provide maximum sun protection along with comfort and safety.
With that being said, you have to consider the activity for which the shirts will be used. You want to be practical, comfortable and fashionable in your sun protective apparel even when you are vigorously engaged in your normal and sports activities.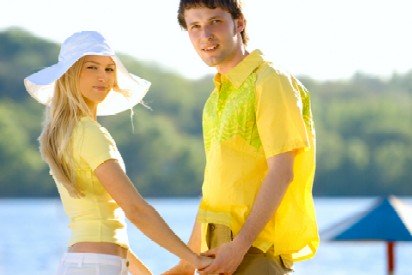 You can follow this recommended guide for sun protective shirts:
• For activities that involve plenty of exposure to sunshine like golf and baseball, cottons and cotton blends are best. These textiles allow your skin to breathe, which will lessen the amount of sweat you generate.
• For other activities conducted in lesser sunshine as well as for normal activities like driving and grocery shopping, nylons, polyester and other stretch fabrics will perform the job just as effectively.
• Depending on the sports you will be engaging in, you can choose either loose-fitting or form-fitting shirts. For example, in sports where freedom of movement is necessary like basketball, then loose-fitting shirts are best.
In sports where smooth flows of movement will be hampered by loose clothing like yoga, form-fitting clothes are similarly best.


What Places Will Your Wear Them To?
This question relates to the range of Ultraviolet Protection Factor (UPF) that you must look for in sun protection shirts. You will observe that this, too, relates to the above mentioned question since the amount of sunlight that you will be exposed to will dictate the UPF value of the shirts you will be buying.
This is because sun protection shirts have UPF values from 15 to 50 and above. Generally speaking, the higher the UPF numerical value, the higher your protection from the sun's harmful ultraviolet rays, which means that there is lower incidence of these rays entering your skin.
As much as possible, always go for UPF 50+ because this is the ideal number. However, you can also choose lower values depending on where and when you will be using them.
If you stay indoors most of the time, then a lower UPF than 50+ might just do the job for you. On the other hand, outdoor sports require a UPF of 50+ for maximum protection.
Ultimately, when choosing the right sun protective shirts , you must go for what are comfortable, breathable, and easy to care for, affordable and certified UPF products.
Doing otherwise only exposes you to risks of bad purchasing decisions as well as bad cases of sunburn and skin cancer.




Join in and share your experience or story. How?
Simply click here to go to Sun Protection Clothing Review







Return to Home Page
Return to the Top