Board Shorts
Sun Protection is a fact of life™
Surf is up!

Mens board Shorts or boardshorts in general are a match made in heaven for all you board surfers, jet skiers, and even kayakers. They are convenient, comfortable and protect your skin too.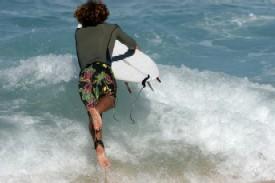 They are available in many colors, fabrics, sizes, lengths (short to long) and cuts.



Worried about losing your bikini bottom?


Not any more, since the womens boardshorts stay on even during major wipeouts. Also, they are long enough to protect your upper leg and thigh area from sunburn and board rash.



Mens or Womens boardshorts may also include,
• UPF 50+ sun protection
• Chlorine and salt water resistant fabric
• Soft and lightweight
• Wrinkle and stain resistant fabric
• Flexible and comfortable fabric
• Quick dry and keep you dry feature (wicking)
• Mesh lining
• Leg, hand and/or back pockets with drain holes
• Velcro free (snag free) closure
• Extra long inseam for additional UV protection
Plus,
• A matching top or rash guard shirt



Swimming trunks or board shorts?



Normally, the swimming trunks are meant for the guys and they look baggy somewhat. Womens boardshorts fit your body much better and look cuter this way.
Another issue is that the trunks don't have the mesh liner that womensboard shorts do. However, you will save money by buying swim shorts or trunks.
Mens boardshorts have the mesh liner, in order to hold everything together. Do not remove the mesh liner!
But if you wear a bikini bottom and guys boardy that you like, then you will be fine. No body can tell the difference.
What's hot?


Probably, bikini tops and surf boardshorts would be one choice. But as far as sun protection goes, you will need to a wear a rash guard shirt too!
Do you need to wear a bikini or swimsuit under the womens boardshorts?


This could be really a personal choice and how comfortable you would like to be.
Even though girls boardshorts are swimming suits on their own, but some still prefer to wear an additional piece underneath them. This could be useful in case of an accident.
Also, if you don't wear anything underneath your board shorts, you could be stuck with a wet suit until you have a chance or the proper place to change.
The same is true if you wear a bikini top under your rash guard shirt.
This way, once you are done and back in the shade you can take off your rash guard shirt and still be comfortable.



Are there any other uses for mens board shorts?

Typically you would wear them for beach type activities.
So if you wear them let's say to the gym, you may want to wear underwear underneath them.
Are you concerned about a big surge knocking off your mens board shorts?


Well, you can try wearing a nylon brief just in case. The cotton underwear gets really wet and dries up slow.
Always consult with others to find out the water temperature of your destination. Board shorts may not do the job, if the water is too cold,
You will then need a heavier wet suit of some kind to keep you from turning blue.
However, I would like to take this opportunity and ask all of you to practice sun safety. You can also be extra cautious while surfing those beautiful oceans of ours.
It was just last year that a 55 year old gentleman was hit by such a force that his head got slammed to the ocean's floor and died.
But I am sure you know better than that and do what's right.
Have fun in your hot mens board shorts or cute womens boardshorts and practice sun safety too!


Join in and share your experience or story. How?
Simply click here to go to Board-Shorts Reviews and Stories.





Return to Home Page
Return to Swimming Suits
Return to the Top