Girls Bathing Suits

Sun Protection is a fact of life™
Regarding girls bathing suits, I've finally learned that girls often reflect their personalities by the kind of bathing suits they wear. For instance a sporty girl will like wearing a tank type of suit, perhaps like one she's seen used in the Olympics?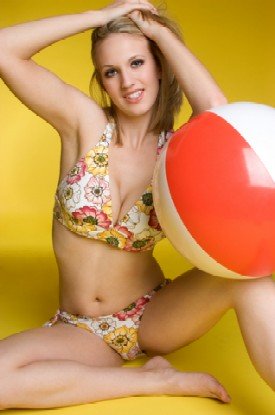 One of my girls is already an ultra-feminine girl, guided by ruffles, and frills and I'd best not forget lace either! Her favorite color is of course pink! Hot pink at that.
Thus, to a girl, even fabric is important. Sometimes, I've made the mistake of saying out loud, "Come on, a girls bathing suit is only a bathing suit."
All I can say to that is a resonant HAH! Yep, I once espoused that theory and guess what I got back? A very horrified squeal… Mommmmmmmm…
So, it's important to avoid such "horrific" errors. Choose fabrics that fit the desired "look" your child wants, while sticking to sun protective fabrics.




Granted sun protective fabrics are relatively new in the US, but they are growing in popularity and for a good reason too. I tend to choose girls bathing suits fabric that is at least rated UPF 40-50.
What's UPF? My ten year old can tell you that: "It means that you've got both UVA and UVB protection from the sun. It stands for the Ultraviolet Protection Factor. Everybody knows that, Mom."
All I can say is that they grow old so fast, and grow smart even faster. You probably agree with me on this point.
Think about it, you may slather tons of UV protection in the form of sunscreen on your little girl, but what about that wet bathing suit that she'll wear for almost 8 hours at the beach? That's almost transparent when it's wet.
Style, as mentioned above, is possibly more important to a girl than to a grown woman. A girl with a self-image that represents the Olympic hopeful will not ever be drawn to a girly frilly bikini.
I have found that trying to force a style on a resistant little girl, even a very young one, is detrimental to her and to my relationship with her. Never again will I commit that parental faux pas.
A growing little girl is forming an image consciousness that will last the rest of her life. Does she tend toward being sexy and trendy? Does she want to be hot and attract boys already? If she's a bit older, does she need an underwire-supported bra to protect her growing breasts?
Does she intend to play a lot of beach sports such as tetherball or volleyball? Will she go snorkeling and expose her back to the sun all day? How about basketball games? Lots of beach areas now have basketball courts for teenage entertainment that's being played in bathing suits.
Thankfully, these girls' sun protective swimsuits now come in all styles imaginable. Plus, they offer sun protection that's unequaled.
Just because I want to buy sun protective girls bathing suits , I no longer hear that plaintive Mommmmmmmm…and I really do not think that you will either.



Join in and share your experience or story. How?
Simply click here to go to Girls Bathing Suits Reviews and Stories







Return to the Top Return to Home Page