Girls Bathing Suits

Sun Protection is a fact of life™

Girls bathing suits are created based upon the laws of attraction, speed as well as comfort. It's also of great importance that the fabric used is rated UPF 50+.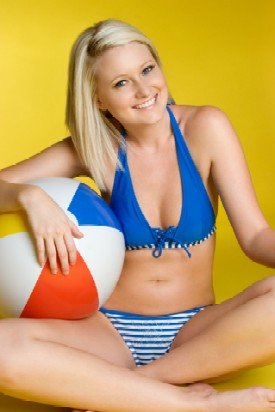 This will insure you that the girls swim suits or the girls swimwear that you choose are all certified against ultraviolet radiation and its harmful effects.
Even when I was in college (a few decades ago), there was never a discussion about being careful and sun safe when you were out under the sun.
My nieces and nephews would be playing under the sun and that seemed okay then.



How about the looks you ask?



Well, of course the looks of any kind of girls bathing suits is priority number one for most people.
However these days they make even one piece swimming suits which look trendy, sexy and fine, while protecting more of your skin than ever before.
Otherwise, a fine looking two piece might work too if you mix them with rash guard shirts and swim shorts for extra sun protection.



How to stop boys in their tracks?


First of all, always be yourself and true to yourself and others. Everything starts with accepting who you are and where you want to go in life.
Less is more:
You might presume at times that if the girls bathing suits are made very tiny and therefore revealing almost everything, may be the more attractive choice.
But that's all depending on your personality and how you carry yourself too.
You could put on a one piece girls swimwear which is not revealing much, but end up being the most attractive and hottest girl on the beach or where ever you might be.


Can you wear the top as a bra?


Not really, but you probably have friends who do that. The tops are not supportive enough to be used as a bra.
Unless you are going to the pool or the beach later on, and just don't like to change in a locker room.



The typical girls bathing suits just do not work for me?


You can always mix and match.
For instance a rash guard shirt with a swim short or skirt with tankini top. A bikini bottom worn underneath a board short and a rash guard.


My larger chest size does not fit right or I am older now?



There are multiple companies online which offer a variety of beautiful and cute girls swim suits specially made for your larger than average bust size.
Some will give you beautiful bust line, by having supportive under wired bra and adjustable shoulder/back straps.
They are also available as tankinis, with draw string pants or skirt wraps for extra skin protection.

They will not only boost your comfort level, but also your self confidence.


No matter which type of girls bathing suits you choose to wear, what matters most is that you feel happy within and are sun protective at all times.


Join in and share your experience or story. How?
Simply click here to go to Girls Bathing Suits Reviews and Stories






Return to Home Page Return to Swimming Suits Return to the Top