Plus Size Bathing Suits
How to Choose A Great Style

Sun Protection is a fact of life™
Plus size bathing suits shopping can be tricky if you're a plus size teen or young woman.
The majority of plus size fashions, including girls or women bathing suits, are made simply by sizing up clothes for smaller people.
That means that plus size bathing suits can be skimpy, badly proportioned, or not set up to provide the kind of support required.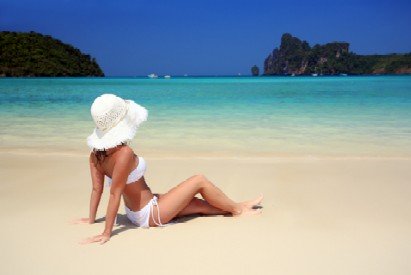 Other suits are made for older women, making you feel frumpy and grandmotherly. Plus, there's that large segment of the suit market that includes features meant to disguise body shape which only make things worse - little skirts and badly positioned belly scarves do little to help plus sized girls who want to look good at the pool.



So what should you do if you're looking for plus size bathing suits that fit and look good?

There are a few considerations to keep in mind that'll help you. The first one is to think about your body shape, and what flatters you personally.
Depending on how you're built, certain things that are the latest style won't do you any favors. You have to be willing to look past what's in fashion to what looks good on you.
Second, make sure that any suit you buy truly fits you. You'd be amazed at how many girls are wearing incorrectly fitted clothes, especially on top.
If you're busty, a good girls bathing suit is going to provide you with plenty of support and security. Get a proper bra fitting at a specialty store, and buy the plus size bathing suit that fits accordingly.
Don't be surprised if your new bra size uses some letters of the alphabet you're not used to seeing - many large busted women wear a G or higher.
There's nothing wrong with you if your size is a little unusual, and you'll look a lot better if you have a suit that supports you properly.
Look for racer back suits to keep straps from slipping down off your shoulders, too. Buy a plus size swim suit with solid construction, even if you have to pay a little more. It'll be less prone to stretch out and cling embarrassingly.


Think outside the box when it comes to choosing styles, too:

Girls plus size swim suits are available in more styles and colors than ever before, so you don't have to be stuck with an embarrassing floral print that would look better on an old lady's couch.
Retro styles can be particularly flattering, and for a lot of us, they remove some anxiety about hip and thigh bulges.
Be willing to shop online and at specialty stores - you'll be amazed at the difference it can make. Look for suits with UV protection if you have fair skin or will be spending a lot of time in direct sunlight.
Last, but not least, remember attitude! If you go out feeling confident and knowing you look good, you'll carry off a flattering suit a lot more successfully than if you're worried about what other people think.
Plus size girls deserve to have just as much fun as anyone else. So, find some girls plus size bathing suits that fit and flatter, and enjoy the water!


Join in and share your experience or story. How?
Simply click here to go to Girls Bathing Suits Reviews and Stories





Return to the Top
Return to Home Page