UV Maternity Swimsuits
Protecting You and Your Baby


Sun Protection is a fact of life™
Maternity swimsuits can help not only against sunburn which is often quite painful, but also deter ultraviolet rays which can do some permanent harm to your skin.
That in turn can result in an increased risk for skin cancer. This is especially dangerous for pregnant women, and this is why UV resistant maternity swimsuits were developed.
Such UV resistant maternity-swimsuits were designed specifically for the safety of pregnant moms in mind, and are essential for a number of reasons:


Physical protection against the sun
If sunscreen works by blocking out UV rays, then a maternity swimsuit works by blocking out all light.
The rays of the sun contain a myriad of light waves that are often invisible to the eye. While a normal, healthy person can simply splash on a little sunscreen to do the job, a mother needs all the protection she can get if she does not want to endanger her baby.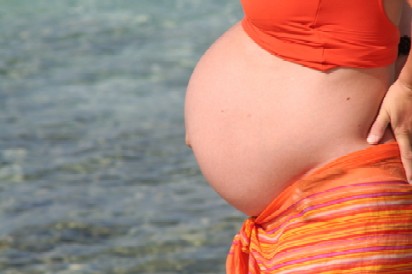 Special swimsuits designed with materials to block out all the sun's light gets the job done effectively and without exposing a pregnant mother to any harmful chemicals.



The less chemicals, the less risk to your baby
Speaking of harmful chemicals, pregnancy is a delicate time for both the mother and the baby developing inside her womb. This requires that she minimize the amounts of chemicals she exposes herself to, lest she risk harming her baby.
As a mother spreads the sunscreen over herself, she uses her hands to do so. And because sunscreen has a way of feeling natural over the skin, many people forget to wash their hands after applying the lotion.
Now sunscreen is made of some pretty dangerous stuff, and they are designed to stick to the skin for as long as possible. That means moms risk ingesting these chemicals as they use their hands for various purposes like eating and grooming.
That is definitely not healthy for the baby.



Protective and figure-complementing swimsuits
Maternity swimsuits were designed not just to protect a mother while she relaxes under the sun, but to make her look good as well.
Swimsuits were originally conceived to allow a person to frolic in the water while complementing the form of their body. This is especially so for pregnant women, who may often feel conscious of themselves because of the inevitable bulge in their belly.
However, special swimsuits are designed to complement a pregnant mother's figure; making her look beautiful without having to place any undue stress on a mother's womb.
And because modern UV swimsuits are designed to keep out the sun's rays, mothers will not only look good in the water, but they will be protected from any harmful rays as well.
Just because a woman is pregnant does not mean she has to prevent herself from having going out and having some fun under the sun.
Just make sure to do so, wearing UV-resistant maternity swimsuits to protect both yourself and the baby you are caring, and you will be able to enjoy a relaxing day at the beach without any worries about sunburn or skin damage!


Join in and share your experience or story. How?
Simply click here to go to Swimming Suits Stories and Reviews.







Return to Home Page
Return to the Top
Return to Swimming Suits