Rash Guard


Sun Protection is a fact of life™


Rash guard or rash shirt is a form of UV protection swimwear which provides blockage of ultraviolet rays for the benefit of your skin's health.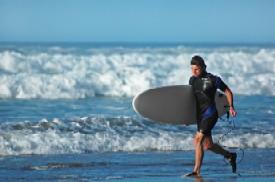 Even though they are good enough to be worn as a shirt, but my surfer friends wear the rash guards primarily when they are surfing in the ocean.
That's the way to go when surfing is on your mind. You won't get a rash on your stomach from the wax and also avoid sunburn which can be even worse.
This is a fantastic way to have fun in the water all day, and not worry about the sun. Of course no one should remain in the sun for too long needlessly.


Are you concerned about wearing a two piece bikini?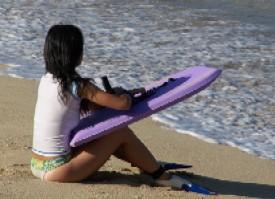 Then, you may want to wear a bikini bottom with a rashguard.
This way you don't have to worry about a wardrobe malfunction.
Even better would be a board short and a rashguard. Board shorts are safe, as they have draw strings and don't come off.



Rash guard must be,


• Soft
• Rated UPF 50+, where UPF means Ultraviolet Protection Factor
• Rated to block at least 98% of Ultraviolet rays ( UV rays ) which means UPF 50+
• Made of a fabric which is chlorine and salt water resistant

• Made of a fabric which can stretch and fit nicely

• Made of polyester, nylon, spandex or a blend of two

• Machine washable

• Manufactured with a high collar design for additional protection of the neck area
• Long sleeve for complete arms protection
• Latex free to avoid skin allergies
Additional Rashguard features may include,
• Front zipper for quick and easy on and off
• Built in board shorts connector for no ride up
Rashguards are of course available in short sleeve also, for your convenience.
Since you would be exposing most of your arm, then you would need to apply and re-apply organic sunscreen to those areas as you swim in and out of the water.
Also if you don't like them to fit too tight, you should get them one size larger than usual.
Where can you buy a rash guard?
You can buy them online or from most surf shops.
Rashguard versus a T shirt?
Well, a typical T shirt does not provide sufficient ultraviolet radiation protection at all.
Where as the rashguard has great sun protection capability and is not comparable to a regular shirt.
Is it okay to wear a long sleeve rash guard?

Absolutely and there is nothing wrong with that. Just ask your dermatologist. You will avoid getting sunburn and also skin problems down the line.


Join in and share your experience or story. How?
Simply click here to go to Rash-Guard Reviews and Stories





Return to Home Page
Return to Swimming Suits
Return to the Top