A Sun Canopy
Comprehending the Inherent Qualities

A sun canopy is the perfect instrument for protecting your family from the adverse effects of the sun.
As per experts, the growing pollution levels of the planet are eating away the atmosphere of Earth which is, in turn, letting through ultra violet rays that are extremely dangerous for the human skin.


This danger refers to the threat of not only sunburn but also Skin Cancer. Prolonged exposure to ultra violet rays can lead to skin cancer in a person, which needs to be kept at bay.
You can do this with the help of the sun canopy. However, not all types of shade canopies can protect you properly. Therefore, knowing the required characteristics of the best shade canopy is important.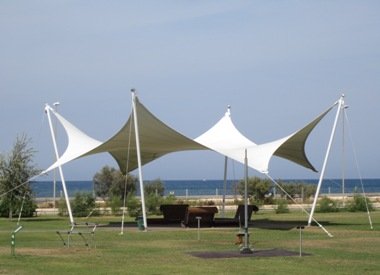 Does the shade canopy have the right protection ratings?
The shade canopy that you own or are about to buy needs to have the right ratings. An ideal shade canopy would have a UPF rating of +50.
UPF stands for the Ultraviolet Protection Factor. A rating of UPF +50 means that the canopy would be able to block or reflect around 98 percent of the sun's harmful ultra violet rays.


What color should your shade canopy be?
The color of your shade canopy is not only dependent on your color preferences. Instead, it plays a major role in the ability of the canopy to reflect heat and keep the shade cool for you on especially high temperature days.
If the outside color of the shade canopy is reflective (which means as silver as possible) then it would be able to reflect a good amount of heat.
Similarly, the inside coloring of the shade canopy should be non reflective so that it can maintain the temperature inside.


Do you have the right weight and size of the shade canopy?
The sun canopy should be of the right size for your family. Buying a sun shade canopy that is too big would be a waste of money, while a size too small would mean that you are strapped for space.
Therefore, making the right choice with respect to the size of the shade canopy is important. Another facet of the shade canopy that you cannot ignore is its portability and weight.
A shade canopy that is too heavy and takes too long to setup and dismantle would be pointless for outdoor trips.


Is your shade canopy water resistant?
Sometimes, it is also important to have a shade canopy that is water proof because there could be a situation that the sunny and bright day turns into an overcast day.
Having a water resistant shade canopy would mean that you not only get protection from ultra violet rays but also from rain.
You should try to preempt your exact requirements when you are in the process of purchasing a shade canopy.
Understanding what you need from your sun canopy is very important because it would allow you to make the right purchase. Going through multiple products would give you a lot of understanding of what you need.



Join in and share your experience or story. How?
Simply click here to go to Sun Protection Methods Stories and Reviews.







Return to Home Page
Return to the Top

Return to Sun Protection Umbrella