Light Up Sunglasses are Just for Novelty Use

Sun Protection is a fact of life™
The light up sunglasses that you have seen at parties, are a lot of fun, but they are not good uv protection. These are just for fun to wear to special events like parties or to play in.
They are not serious eyewear that protects your eyes from UVA or UVB rays. So go ahead and have fun with them especially at night when their lights show up better. But during the day wear something better.


What protection do you need?
For serious protection get a good pair of sunglasses that protect your eyes totally from the UV rays when you are outside in nature (this means 99 - 100 percent). You can find many attractive styles of these glasses to wear.
There are also several sport models to protect you as you are playing outdoors. You should not use light up sunglasses for serious protection in these instances. They will not block out enough uv rays.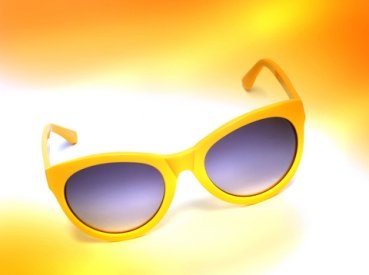 What the Damage Can Lead To
If you don't protect your eyes from damage you can wind up with damaged eyes. You could just start off with vision problems but then later you could wind up with Macular Degeneration happening which can be debilitating.
This disease harms you central vision which involves the retina and macula. When this occurs your vision can become distorted or you can also have a blind spot in the middle of your vision path. Severe vision loss can eventually occur and this could make you have to alter your entire lifestyle.
Damage from the sun can also lead to cancer of the eyes. Malignant Melanoma, lymphoma and other types of cancers can affect your eyes.
Many times surgery or extensive therapy is needed to overcome these cancers. If caught early there is a fairly good success rate.
But why risk getting cancer when just protecting your eyes from the sun lowers the risk dramatically? The light up sunglasses are not strong enough protection during the day though, remember these are just for fun.



Cost of Healthcare
With the cost of healthcare going up today you need to be more careful than ever to stay healthy. This goes even for your eyes.
It can be quite an expense to get the right treatment for an eye disorder or disease. Isn't it cheaper to get the right pair of uv protection sunglasses to wear?
This way you might spend a bit on your sunglasses, but save yourself thousands trying to deal with a problem cropping up from your eyes getting too much uv rays. A bit of prevention is worth a lot in this case.
Your eyes will get sun protection so they do not get damaged. The vision you have will remain intact much longer this way. Also the risk of you contracting eye cancer will go way down too.
So go party hopping in your light up sunglasses at night and wear your good sunglasses during the day. You will have the best of both worlds this way.



Join in and share your experience or story. How?
Simply click here to go to Sunglasses Stories and Reviews.







Return to Home Page
Return to the Top
Return to UV Sunglasses