Finding the Best Sunglasses

Sun Protection is a fact of life™
Having the best sunglasses is synonymous to getting the right protection for your eyes. When they lie vulnerable to the damaging effects of harmful UV rays, a great looking and effectively protective pair of sunglasses can lower your risks of accumulating eye problems.


What is the purpose of a pair of sunglasses?
Just recently scientists have discovered that the sun's harmful rays are directly linked to eye disorders such as Macular Degeneration and cataracts, which basically means damage to the eye's retina and cornea.
To get the best eye protection, you need to get the best sunglasses that will deliver the level of eye protection that you need without compromising the accuracy off your field view.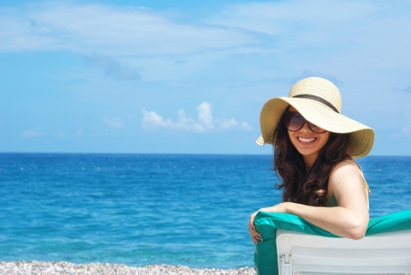 How does a pair of sunglasses work?
The human body is naturally equipped to replace damaged cells. However, the cells in the lens of the eye are one that can never be replaced. This explains why the damage caused by the sun to the eyes is often irreversible and they tend to accumulate over time.
By simply wearing sunglasses, you can prevent developing eye disorders like cataracts and macular degeneration, which can impair vision.
To effectively block and rule out harmful and damaging uv rays, most sunglasses are coated with UVA and UVB ray blockers.
If brightness is a comfort issue, wearing a good pair of protective lenses prevents the eye from confronting a surplus of bright and blinding lights. Depending on the feature of the sunglasses, a pair of lens can offer 97 to 100 percent uv protection.


How can you find the best sunglasses?
Since not all sunglasses are created equal, choosing the best among the available options would be tricky. But by considering these factors, you can easily find the best sunglasses for you.
First, you need to go for quality. Make sure that each lens is tinted evenly and watch out for any sign of imperfection. Take time checking the material of the lens used.
Optical quality CR-39, polycarbonate, glass and plutonite plastic are the common lens materials used on quality-made sunglasses. Any sign of distorted vision or damage is a sign of poor quality.
Pay attention to the uv protection and light blocking features of the sunglasses. The best sunglasses should feature 99 to 100 percent UV ray blocking capabilities and UV absorption up to 400 nm.
For outdoor activities, darker lenses are more ideally used. For driving or beach sunglasses, those that promise to block 70 to 90 percent of light will work perfectly.
Frame material and lens design should be your next consideration. Talking about combining form and function, the best sunglasses need not look plain.
Wrap around frames with larger lenses are more often recommended as they offer more protective shielding features against the sun's harmful rays.
When it comes to the frame and lens design, make sure that they offer protection from ambient light, glare and direct sunlight. Frame materials usually vary from plastic to metal or combination of both.
Consider the necessity of some special features such as waterproof, impact, mirror and scratch resistance, anti-reflective properties and high-contrast lens.


Are expensive sunglasses better than cheap sunglasses?
When choosing the best sunglasses , price must not be used as the deciding factor. There are cheaper yet quality-made sunglasses and there are expensive sunglasses that fail to deliver the level of eye protection you need for your daily outings. Sticking to high-quality sunglasses is the key to enjoying trendy solutions to maintaining clear and healthy vision.



Join in and share your experience or story. How?
Simply click here to go to Sunglasses Stories and Reviews.







Return to Home Page
Return to the Top
Return to UV Sunglasses