Girls Bathing Suits Colors

Sun Protection is a fact of life™
Did you know that your girls bathing suits colors could make a big difference in how you look?
Color, plus the placement and shape of colored areas, can make parts of your body look larger or smaller.
Here's a look at the use of color in girls bathing suits to help you decide on the suit that'll look great and fit your body the best.



Did you know that if you're less than bountifully endowed in the bust department, choosing a suit with suitably placed, curving blocks of bright color and a darker lower portion could help emphasize your bust?
Likewise, pear shaped girls who want to draw attention away from the hips can use this strategy.
Don't use a waist belt, a two piece that divides right at the waist, or a one piece with blocks of color that divide you at the waist if you're short or want to avoid emphasizing a round stomach.
Instead, consider girls bathing suits that offer an elongated visual appearance.
Girls who are larger are often told to avoid bright or light colors in favor of black or navy, and these colors are still slimming.
However, loud colors aren't as awful as you might have heard. You don't have to blend into the wallpaper if you don't want to.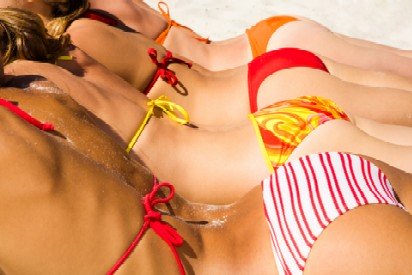 Just pick a suit that offers a lot of support, is well made of sturdy fabrics and fits you like a glove. A perfect fit takes off more pounds than most diets.
You might be wondering what colors are in, and which ones are more outdated. The answer is that it depends.
Look at what others are wearing if you're concerned about fitting in, or just take a style you like and make it your own.
All kinds of vintage and retro styles and colors are in, so if you can pull them off, nothing's off limits.
From 1980s hot pink and lime green to basic black, it's all about what you do with the suit and the attitude you wear it with.


Size ranges for girls bathing suits in retail stores can be disappointing.
Most stores carry a very narrow range of sizes, so that plus size girls, busty girls, tall girls, the petite, and anyone else who happens not to fit a given brand's idea of the perfect figure is out of luck.
In the past, anyone who's not perfect has had to make do with a suit that's not quite right. However, this can be embarrassing, and no one wants a suit that doesn't fit or is just plain ugly.
Fortunately, there are plenty of specialty girls bathing suits retailers online who can help you.
They sell suits to fit any body, modest swim suits for girls who don't want to bare it all, UV protection swimwear for those who are worried about the sun, racing suits of all sizes and lots more.
You just need to know a little bit before you order.


Join in and share your experience or story. How?
Simply click here to go to Girls Bathing Suits Reviews and Stories





Return to the Top
Return to Home Page