Why One Piece Swimsuits Work

Sun Protection is a fact of life™
One piece swimsuits have been around for quite some time, and have been tagged as one of the boring and traditional swimwear by people who opt for bikinis or similar swimwear. This cannot be further from the truth.
One-piece swimsuits are just as modern as thong bikinis when it comes to the swimwear department. Just look at the models doing their run with one piece swimsuits, and you will instantly realize that one-pieces are the epitome of class and finesse on the beach.


How does it affect your figure?
Another common association with one piece swimsuits is that they are only for 'obese' people and serve to cover up any unpleasant sights on the body. This is not true.
Swimming suits are designed specifically to bring out the best in a woman, and the effect that a one-piece swimsuit has on an individual is as effective as the design it adopts.
Under-wire swimsuit models accentuate healthy busts while supporting them. Special cut models expose a woman's assets to add a sexier look.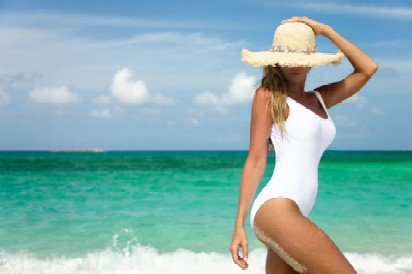 Ruffled ones add some spice and pizzazz to petite ladies. And draped pieces are effective at enhancing women with fuller figures. The effect on a lady's figure then only depends on the shape and features of the one piece that she wears.


How much exposure is ok?
How much skin a lady wishes to reveal can also be enhanced by a one piece to surprising effect. However, sun protection should never be set aside.
One still needs to apply biodegradable sunscreen lotion or creams to the body to prevent it from getting damaged from the UV rays of the sun.
The allure of fashion is in presenting the body in such a way that it becomes beautiful. Simply reducing the amount of clothing may serve to wow the crowd at first glance, but will not hold their attention if done incorrectly.
The secret is to strike the right balance of cover and exposure, and one-pieces are designed with this in mind.
By covering certain parts of the body, a person becomes curious about what exactly is hidden in that body. And the resulting exposure that a one-piece indulges the viewer, accentuating it, and making a woman look beautiful and easy on the eyes.


Does it affect mobility?
One piece swimsuits also offer greater mobility and flexibility to the wearer, allowing her to do whatever she wants, whenever she wants.
They do not come off easy, and this makes them particularly useful for individuals who want to swim and frolic to their hearts content without worrying about laces or straps or buttons coming undone.
The extra support that one-pieces also provide helps make such activities comfortable and easy to do. The most important thing is they would provide more UV protection than two-piece swim wears.
Also, by hugging important areas like the hips and the bust, activities like beach volleyball or strong swimming do not place unnecessary strain upon these vital areas.
This is especially so for the bust – it hurts a lot more than it looks when they uncontrollably bounce all over the place.
The ability to complement figures, expose skin whenever and wherever a woman wants, supporting her in high-energy activities, and providing more sun protection are just some of the upsides that one piece swimsuits have to offer to the intrepid beach-lover.
So if and when someone chides you for sticking with one piece swimsuits , strut your stuff and show them just how wrong they are.


Join in and share your experience or story. How?
Simply click here to go to Swimming Suits Stories and Reviews.







Return to Home Page
Return to the Top
Return to Swimming Suits